When people think of Vail, they often think of snowy mountains packed with well-dressed skiers and snowboarders gleefully careening down the slopes. What many people don't know is that Vail is just as beautiful, with just as many activities in the summer.
Here's a perfect weekend in Vail, Colorado, on a sunny summer's day.
---
Friday
Vail is known for its upscale, impeccable hotel options. When we stayed for our last mural project, we were very lucky to have a suite at the Four Seasons Vail. The rooms are modern and spacious, the bathrooms feature deep, freestanding porcelain tubs with balconies overlooking the Rocky Mountains and there are coffee stations that will make even the pickiest coffee drinker happy. The lobby bar, Remedy, is a local favorite with stellar views of the hotel's stunning pool and green hiking paths. If you're looking for a smaller boutique hotel, check out the charming Austria Haus Hotel.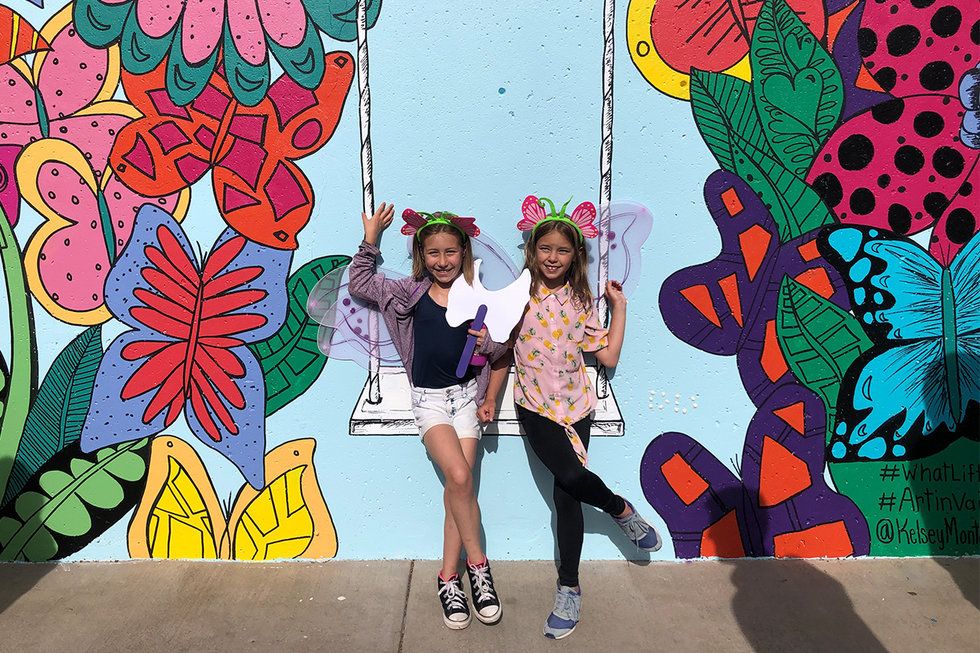 For dinner, we recommend going to Sweet Basil – largely regarded by locals as one of the best restaurants in town. Sweet Basil features fusion food with creative dishes such as saffron linguine and sakura pork tenderloin.
Vail is about 8,000 feet above sea level, so if the altitude hits you a few hours after your arrival, there are a number of things you can do to alleviate your symptoms. Stop by an oxygen bar for a quick O2hit or a hydration bar for an IV of saline and B12. Also, be sure to grab some electrolyte water, a portable oxygen cylinder, some ibuprofen and simple carb snacks (which are easier to digest at higher altitudes). We're native Coloradans, and even we were dragging our first night in Vail.
For your second day in Vail, call your hotel concierge about delivering fixings for a picnic for the following morning.
Saturday
After you've packed your lunch, we recommend heading to eat at the charming Ludwig's Breakfast for a wonderful European-inspired brunch on an enclosed terrace overlooking Gore Creek.
If you're feeling pretty good with the higher elevation, we recommend an easy hike around town to get your (red) blood cells pumping. Stop by the Vail Nature Center and then walk along the winding path next to Gore Creek towards the Gerald R. Ford Amphitheater and Betty Ford Alpine Gardens. Built in the 80s, the Ford's lived in Vail and wanted to leave a lasting legacy. Hence, they created the highest botanical garden in the U.S. and had an amphitheater designed to match the snow-packed peaks of the Rocky Mountains.
Wander through the perfectly manicured gardens, check out the amphitheater schedule and finish up at Patrick Dougherty's mystical art installation "Stick Works." This installation of woven wood makes you feel like you've stumbled across the home of a woodland nymph or an ancient fairy colony.
For lunch, spread out your picnic in the open park space next to Dougherty's masterpiece and watch aspiring fly fisherman practice their casts.
Most Saturday afternoons in the summer are filled with events. Check out vail.com to see what your Saturday has to offer. When we were in town, we visited the Vail Arts Festival, full of talented Colorado artists. We also got to experience the Vail Beer Fest, and with hundreds of craft brews represented, this event has something for everyone. As you walk through the town, be sure to stop by our newest installation in Vail — "What Lifts You – Vail Swings." Created at the entrance of the Vail Transportation Center (near The Solaris Hotel), you can't miss the bright, oversized flowers and butterflies floating along the cement walls.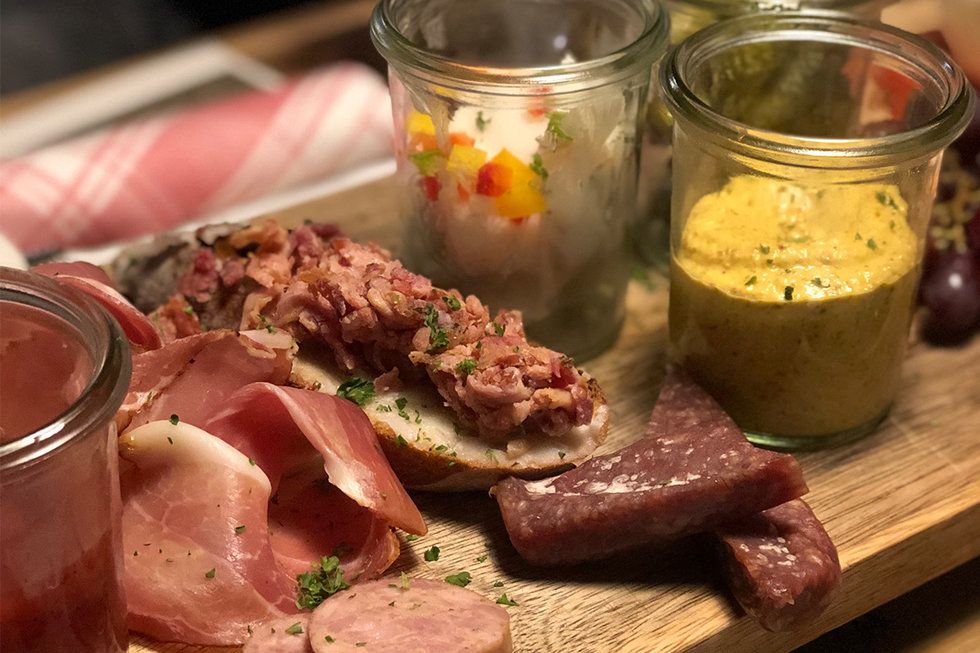 For dinner, we can't recommend the sweet, home-cooked meals at Alpenrose enough. Alyssa and her brother Joshua run this cozy restaurant and are some of the kindest folks you'll ever meet. Every single detail, from the restaurant design down to the mugs, has been carefully planned and is designed to make you feel at home. Alyssa explained to us that most of the recipes are her grandmother's and are inspired by the Black Forest region of Europe. The menu features Italian ravioli, "Munich-style" schnitzel and traditional German pretzels. Plan for a long meal because you will want to linger over their apple strudel and Gluwein for dessert.
Sunday
The Four Season's restaurant Fire has an incredible breakfast buffet with some of the best service we've encountered. Their croissants are buttery and soft, and their waffles are made to order with a myriad of topping options.
If you're feeling a little full from breakfast, we recommend a pedi-cab to get you to your next destination. Ben Donnelly runs Vail Pedicab, and when he's not showing folks around Vail, he's teaching adaptive skiing to disabled youth in the winter. Let Ben know you'd like to take a gondola ride and he'll get you to the base of the Eagle Bahn lift. Keep your phone out during the trip to take shots of the stellar views of the Vail valley on the way up. At the top there's a slide, a ropes course and hiking galore if you'd like some exercise on the way down.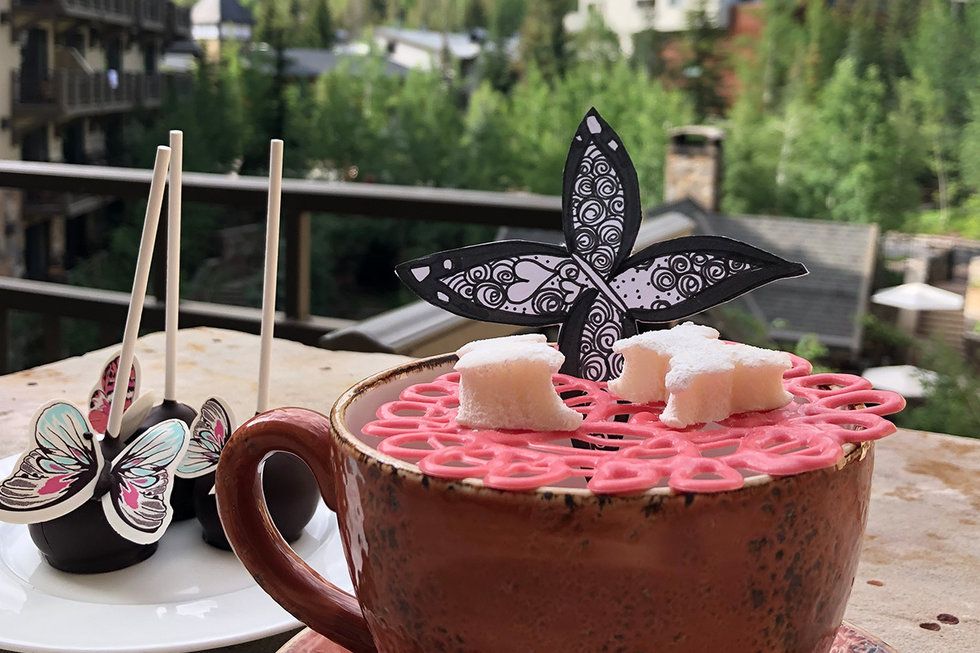 For a quick lunch, stop by the Remini Gelato & Cafe about a block away from Eagle Bahn Lift. The owners of this European inspired cafe so desperately wanted their Italian coffee maker that they bought it a seat on a plane back from Italy. This Italian beauty of a coffee maker does make incredible lattes and silky-smooth hot chocolate. Their yummy ham and swiss sandwiches also can't be beat.
After lunch, head over to the Colorado Snow Sports Museum. This newly renovated museum takes you through the history of skiing, snowboarding and even fashion on the slopes. The exhibit about the 10thMountain Division is a piece of history Coloradans are very proud of. Before WWII, Charles Dole, the president of the National Ski Patrol, convinced the US government we needed a division of the armed forces that was adept at skiing and surviving harsh winters and mountain conditions in case of an attack by German forces. The Army developed and trained the tough-as-nails 10thMountain Division of the US Armed Forces at Camp Hale in Colorado. The men of the 10thMountain Division went on to found almost every ski resort west of the Mississippi, co-found Nike and even went on to became politicians (including Bob Dole).
After an interesting history lesson, head over to the 10th Mountain Whiskey and Spirits bar for a proper whiskey. While you're at it, toast the brave men of the 10th Mountain Division for their heroism. For dinner, head over to Mountain Standard. The service is stellar and the generous comfort food is the perfect way to end a trip to this summer mountain getaway.