Megan Hansen grabbed the hand bag under her seat, looking to put away her book. Instead, she found a gut-wrenching problem. Her engagement ring wasn't on her finger. Barely two months after her now-fiancé, Philip Walker, had placed it there, it was gone.
"I was an absolute wreck," Hansen says. "My parents, sister and her boyfriend were traveling with us and their support helped a lot, but I was pessimistic. It's a really nice diamond ring, so I thought there's no way someone would turn it in."
Making matters worse, after searching the United plane the group flew to John Wayne Airport to no avail, Walker admitted he hadn't insured the ring. Thursday was not exactly a magical start to a long weekend with family at Disneyland.
---
—
Cheryl Searle can illuminate an entire terminal with her infectious positivity and never-ending desire to put smiles on customers' faces. A senior supervisor for United Airlines at its Denver International airport, Searle was particularly chipper when she showed up to work, since she was planning to celebrate Valentine's Day by surprising customers with goody bags full of sweets.
A couple hours into the work day, a coworker told her about an engagement ring that'd been recovered near Gate 33. A missing item claim had been filed, a match found, and customer confirmed. The customer would be flying back to Denver on Sunday.
'Happy ending, but we can make it an even happier ending,' Searle thought to herself.
After getting the green light from her boss, Searle and customer service representative Nancy Swingle boarded the next United flight to Orange County, California to make a surprise Valentine's Day delivery.
—
Hansen woke up distraught Friday morning. She hadn't heard from anyone about the ring and she was convinced she'd never see it again. Her finger felt empty, so she googled potential replacements she could buy herself. Hansen's mother, sensing her daughter's heartbreak, bought a ring from the Disney store so that Megan could have something on her finger again.
That placeholder helped, and the family headed into Disneyland. While at the Star Wars: Galaxy's Edge area, Hansen got an incredibly uplifting call: her ring had been recovered at the Denver airport, and United would hold on to it for her to pick up on Sunday.
"United made my Valentine's Day," a relieved Hansen exclaimed. Shortly after, her fiancé's phone rang. Cheryl Searle was on the other end.
—
Everyone knew, except for Hansen. Even Mickey and Minnie Mouse. Searle and Swingle, with the help of Disneyland, Hansen's fiancé and her father, had devised a ring reunion plan for Friday night's fireworks show. Hansen and family arrived for the show and went directly to a VIP viewing area.
"Weird, but my Mom must have talked our way into here, since that's something she'd do," Hansen recalled thinking. A few minutes later, Searle and Swingle approached Hansen, in the shadow of Sleeping Beauty Castle. "I thought they were Disney employees," Hansen said. "I'm thinking to myself, 'Oh no, what did I lose now? Did I leave my wallet somewhere?'" Then Searle revealed a small box in her right hand.
"We know you are already in the happiest place on earth," Searle told her, "but we think we are about to make you just a little bit happier."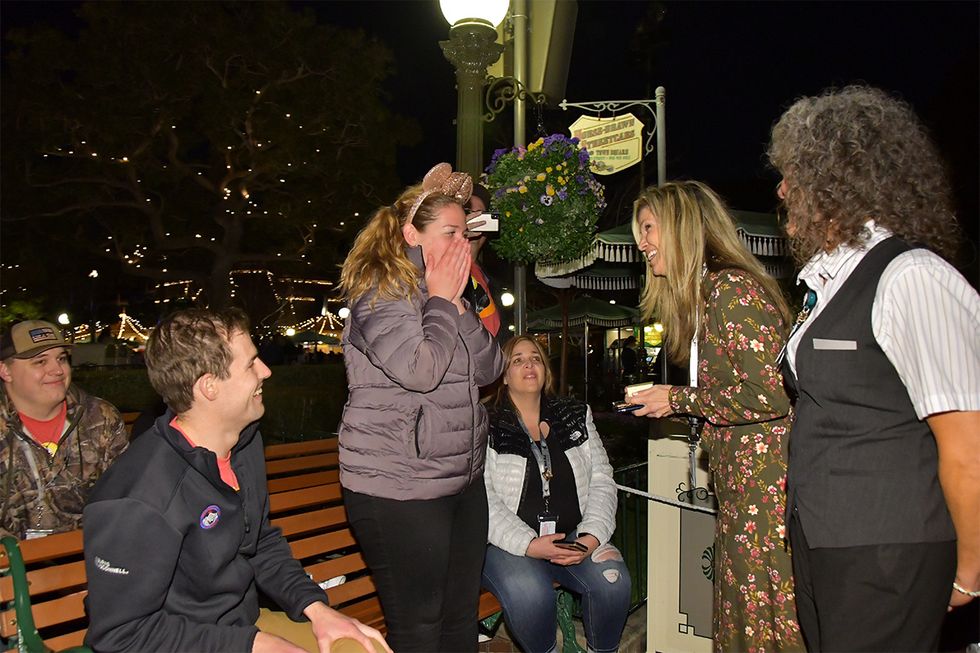 Cheryl and Nancy pictured with Megan and Phillip at Disneyland
Searle handed the ring to Walker, who got down on one knee and re-proposed. Those nearby cheered, thinking they'd just witnessed the couple get engaged. Disney arranged for Mickey and Minnie to pay the family a visit, too.
"I have so much gratitude for Cheryl, Nancy and everyone else at United who was involved with this truly surreal experience," Hansen said. "They took what was this highly stressful, awful moment in my life and turned it into a great experience and made me feel like I truly mattered. And that's special."
For Searle, Swingle and their United colleagues in Denver, it was mission accomplished.
"Customer Service is all about doing the right thing and taking care of our customers like we would want someone to take care of our own family," Searle said. "I felt utter pride knowing that her ring was home with her, where it belonged, especially on Valentine's Day.
"Seeing the reunion unfold, from the planning phases to the deployment, it gave all of us reason to believe in happy, fairytale endings. Dreams do come true."