Sisters and United MileagePlus® Premier® 1k members, Kelsey and Courtney Montague, are constantly traveling to create street art pieces for communities around the world. This year they teamed up with us to travel to Peru to explore the beautiful country, and to create a custom mural for a very special group of young women participating in the Peruvian Hearts program. Peruvian Hearts, now part of our Miles on a Mission program, works to support female leaders with access to education, counseling and peer support
Finding tranquility at Machu Picchu
As we hiked up the ancient steps of Machu Picchu, we were surrounded by Incan merchants, servants and townsfolk climbing the stairs to start their day. As foreigners not used to hiking at 7,9000 feet, the locals sprinted by us as we struggled up the steep steps, with the lush rainforest behind us and ancient city just beyond. But even with burning legs and straining lungs, it's likely anyone's breath would be taken away (as ours was) once they reached the clearing above this sprawling city in the clouds. All thoughts of the slightly tortuous route we took to this dazzling ancient city were forgotten the second we laid eyes on this UNESCO World Heritage site.
---
Along with my sister Kelsey, our Dad and our friend Clay felt the power and mystery when we all arrived at the vantage point over the city of Machu Picchu. The day before we had traveled all day from Denver flying in United's stunning United Polaris®. We slept fully flat on two excellent flights, curled up on down pillows and wrapped in Saks Fifth Avenue comforters. We slept soundly after feasting on steak and chocolate sundaes and spent a layover chatting with bartender, Steven, as he made us cosmos at the United Polaris lounge in Houston. It was wonderful, but the best part? Arriving in Peru so rested and relaxed we were able to completely savor this moment at Machu Picchu. A moment only made sweeter when our Dad turned to us and thanked us for taking him on the trip of a lifetime and giving him the opportunity to see a place he never thought he'd get to visit.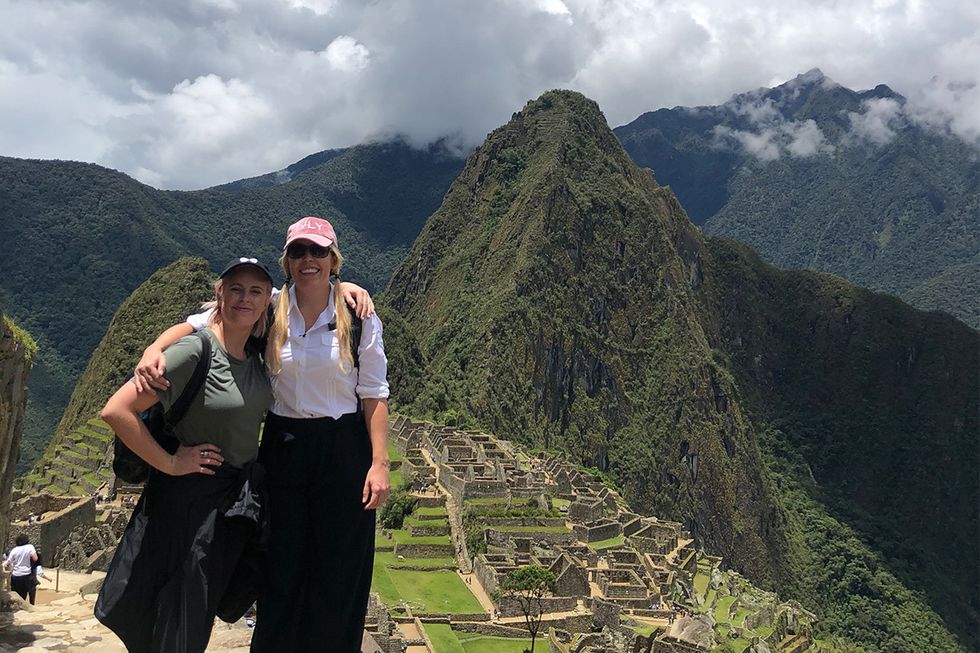 We explore the ruins with the wide eyes of children, enjoying every view and savoring every piece of information from our guide. Llamas 'own' the ruins and gently nudge tourists aside as they scamper between buildings to their favorite pasture. The terraces on the outskirts of the town were used to prevent soil erosion and to farm maize and beans. Condors soar above our heads, their keen eyes hunting for chinchillas tucked into the terrace rock walls.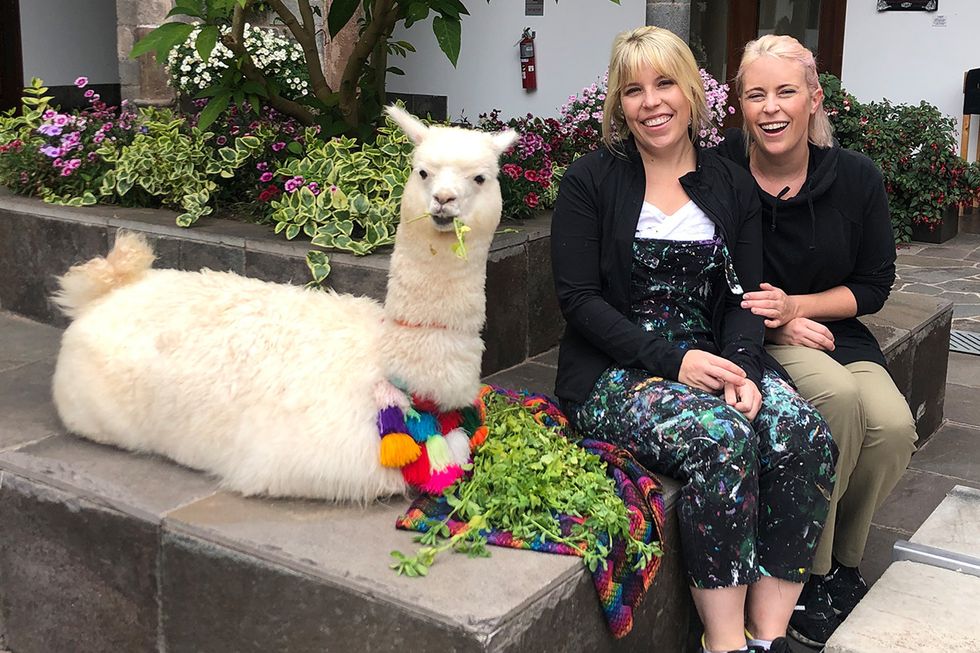 Incan community members that lived or worked in Machu Picchu must have felt the same way we felt the first time they came across this thriving metropolis, situated on top of a mountain. Incan urban planners neatly organized centers for astrological studies, religious ceremonies, sports, commerce and farming. The buildings were built from granite and limestone, likely from a quarry located on the same mountaintop. Some buildings were so finely constructed scientists still don't quite know how the Incans did it.
At the end of the tour we come to the sacred rock — a perfect, flat replica of the Yanantin mountain behind it. Some mystical members of society believe that touching the rock transmits tremendous power. I won't lie that I quietly let my fingers graze the stone as a I walked by. Did I feel a sudden power rush? No. But did I leave Machu Picchu filled with a sense of wonder and a reaffirmed belief that anything is possible? Yes.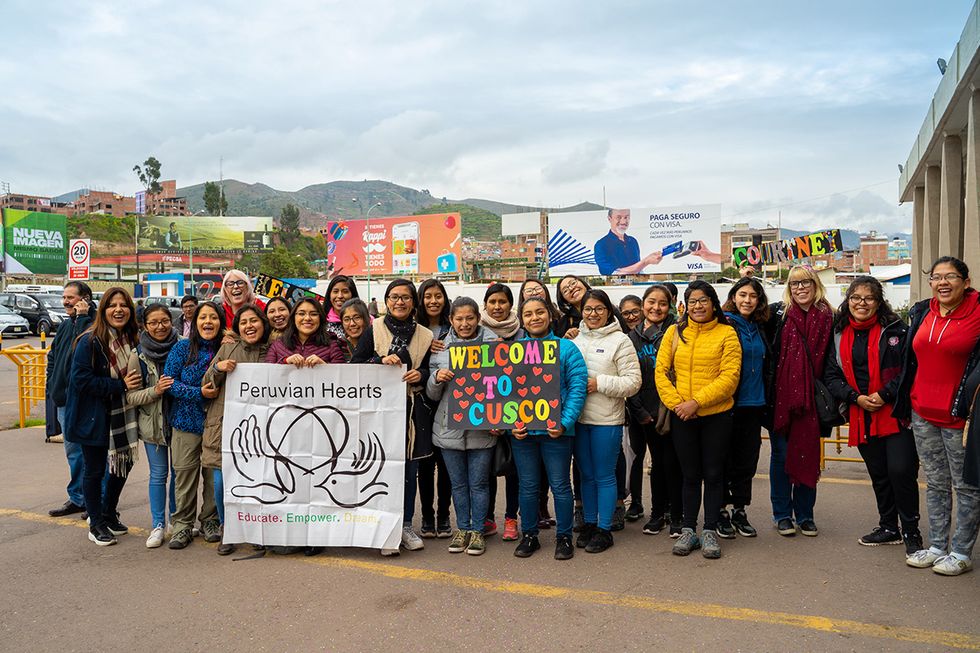 Partnering with Peruvian Hearts

The next morning, we awoke ready to tackle the most meaningful part of our trip to Peru — working with Peruvian Hearts.
Peruvian Hearts works to support women by giving them access to education, counseling and peer support. They are currently working with 32 talented, bright young women who they have hand-picked from secondary institutions across Cusco. They focus on supporting brilliant engineers, psychologists, teachers, scientists and doctors. These are the future female leaders that will change their communities, their country and the world for the better.
When we arrive to meet these scholars, they cheer, and each young woman gives Kelsey and me a hug. Overwhelmed, we both begin to cry. We are so grateful for our job as a traveling street art team, but we are on the road so much we are often very lonely. We can't remember the last time we received so many hugs or saw so many bright smiles.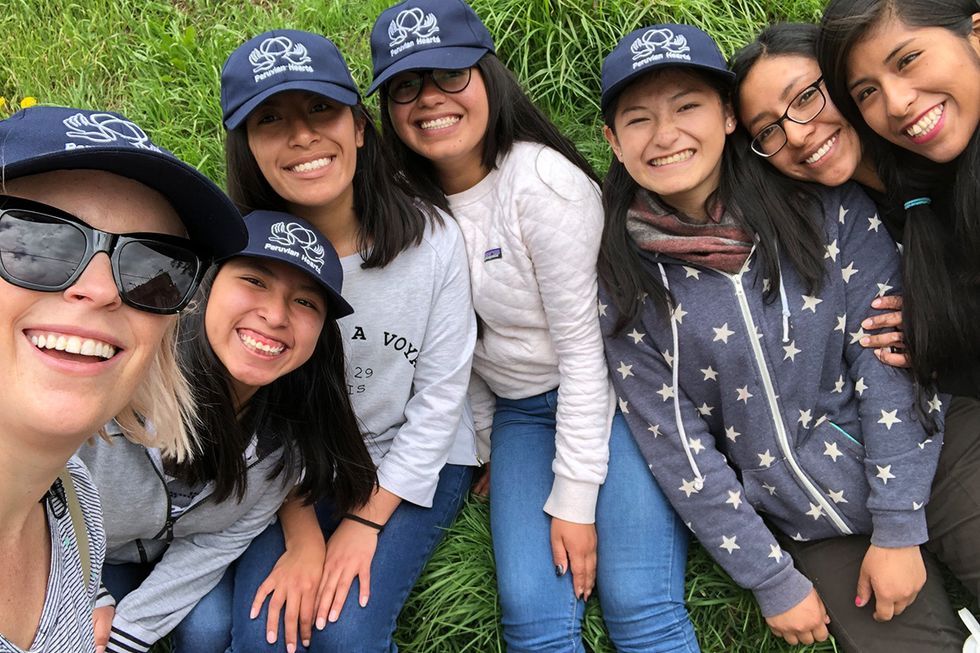 When we arrive to the Peruvian Hearts headquarters a number of the young women tell us how they found Peruvian Hearts. Aldi, a brilliant engineer in training, was asked to join this special organization because she was first in her class in secondary school. She grew up in tough financial circumstances — her mother is ill and unable to work, and her father works in construction. As the only person in her family who has attended university, she is the primary hope of her family. Tears stream down her face as she describes how tough it has been for her family to survive. So many of these young women tell similar stories and carry the weight of their entire family's future squarely and proudly on their shoulders.
These stories reaffirm the reason Kelsey and I decided to join forces with United — we hope to make that weight on their shoulders a little lighter. As we worked on the mock-up for the mural to commemorate Peruvian Hearts, United decided to help in another way by including Peruvian Hearts in their new Miles on a Mission program. A first of its kind program, United MileagePlus members can now donate their miles to nonprofits they care about. Miles that will help young women like Aldi attend conferences in the United States or study abroad in Mexico.
Other women will be able to travel more freely between their studies in Lima and their families in Cusco. The young scholars were so excited to now be part of the United family and to have access to the connections a major airline can bring.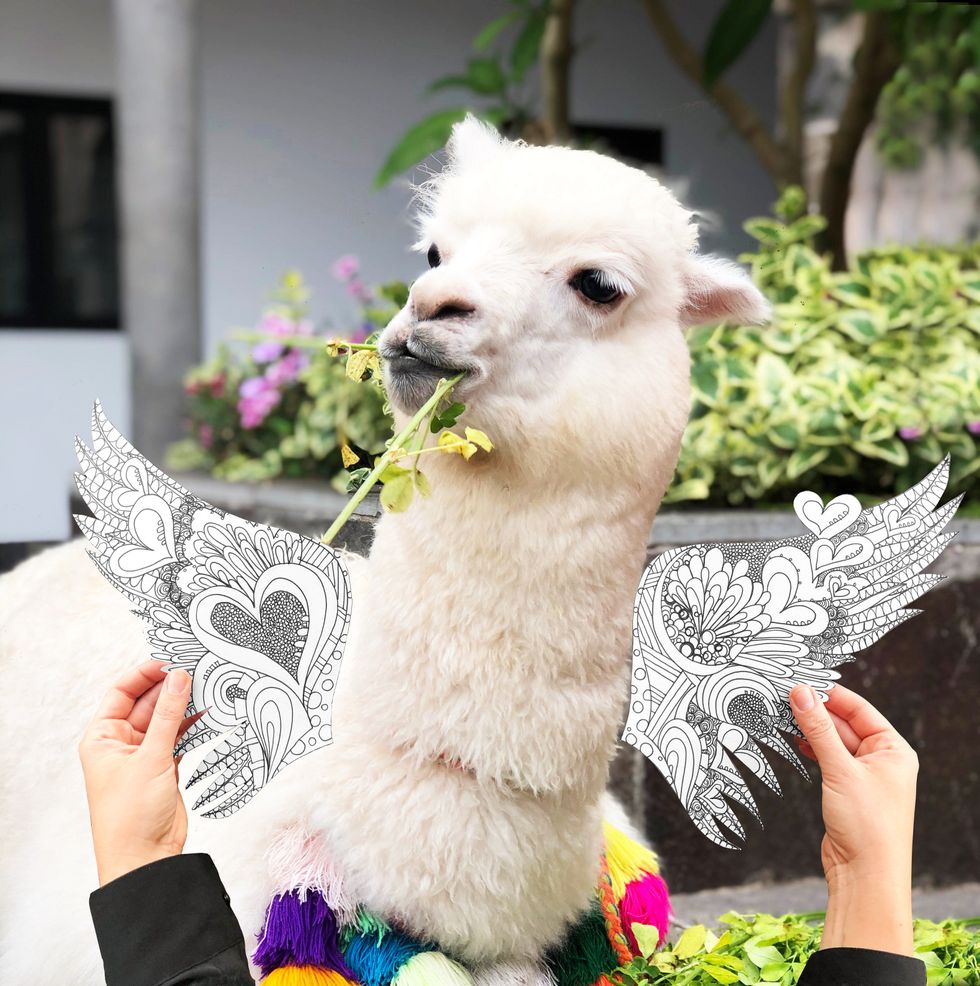 After an ideation period Kelsey decided to create a large-scale heart flock mural with 32 hearts on one side to represent the young women in the program and 32 hearts on the other side to represent those to come. Over two days we painted the piece and filled it with items that represent Peru (a llama, a condor, Peru's national flower and butterflies), Peruvian Hearts (pencils, books, and a shooting star) and a United airplane. As we worked on the piece the ladies sang, danced and told us their dreams. Dreams to travel, learn new languages, start meaningful careers and change their communities for the better.
When we finished the piece — two massive streams of hearts that appear to be coming from the person standing in the middle of the mural — the girls came to thank us. With cheers, hugs and kisses they explained how proud they were that this mural was for them and how it would continue to lift them up as they work hard to improve their circumstances.
At the end of this project Kelsey and I felt so blessed to be connected to such a wonderful group of women. At that moment we realized that is what art and travel should be about. Art and travel should connect us to each other as humans and to something deeper within ourselves — a desire to lift each other up.
Visit United's Miles on a Mission program to support Peruvian Hearts .