Even frequent visitors to Los Angeles rarely visit the city's colorful, energetic neighborhoods. More often than not, they're too busy fighting traffic on the way to Disneyland, the beach cities and L.A.'s other major attractions. But they're missing out on the appeal of the city's unique districts. Angelenos know that these seven in particular — all within a 30-minute drive from downtown — are fun and unique places to experience. Find out for yourself on your next trip to L.A.
---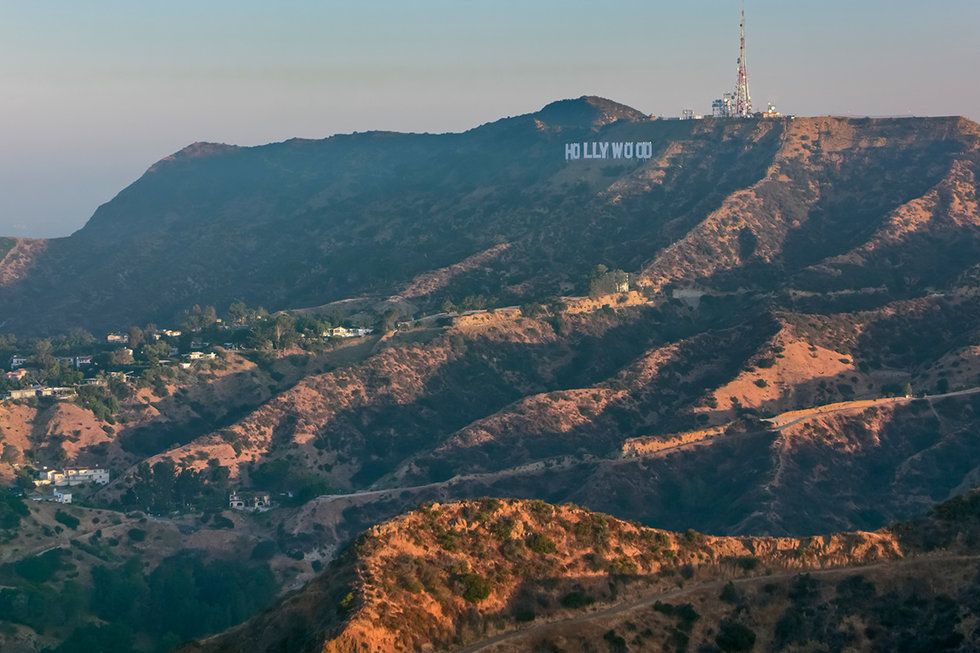 Hollywood Hills sign overlooking L.A.
The Hollywoods
There are four Hollywoods, each with its own flavor. West Hollywood (WeHo) hosts a thriving LGBTQ+ community with countless dance clubs and rooftop bars. North Hollywood's NoHo Arts District features dozens of theaters and galleries, especially on Lankershim Boulevard. Funky and ethnically diverse East Hollywood is home to Frank Lloyd Wright's Hollyhock House, a new UNESCO World Heritage Site, in Barnsdall Art Park. Then there's Hollywood itself, the birthplace of the film industry. It also boasts many theaters, a young and diverse population and attractions like the Hollywood Walk of Fame, Hollywood Museum and Hollywood Wax Museum on Hollywood Boulevard.
Arts District
Eleven art museums and galleries crowd the trendy, walkable Arts District near downtown L.A., including the Institute of Contemporary Art and the a+d (architecture and design) museum, which both opened in 2015. The district's abandoned warehouses now serve as canvasses for dozens of murals. Inside, there are artists' lofts, coffeehouses, restaurants, wine bars, distilleries and ROW DTLA, a former apparel factory now bursting with restaurants and specialty shops.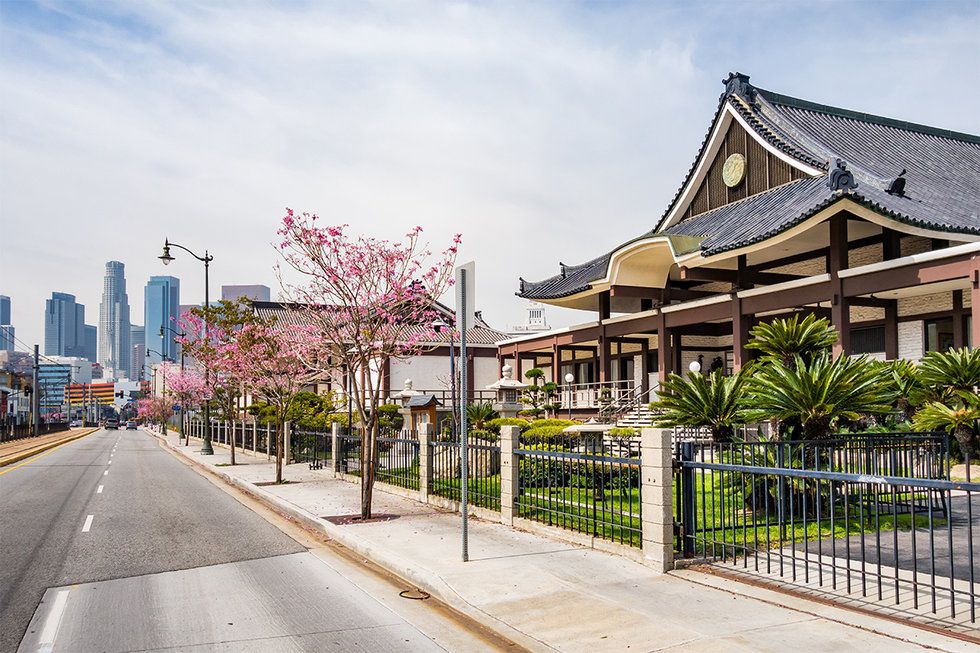 Nishi Hongwanji Buddhist Temple in Little Tokyo
Little Tokyo
L.A.'s Chinatown has appeared in more movies and Koreatown is more populous, but Little Tokyo is the most visitor-friendly of the three downtown-area neighborhoods in L.A. once dominated by Asian immigrants. Although the percentage of Asian-American residents in Little Tokyo has shrunk to 40 percent, it's still America's largest "Japantown" and the city's cultural hub for Japanese-Americans. Discover why on First and Second Streets, home to many Japanese restaurants and shops housed in century-old buildings, and at the Japanese Village Plaza mall and Japanese American National Museum.
Silver Lake
Forbes has called it L.A.'s hippest neighborhood, but Silver Lake has more to offer than the chic-funky shops where Sunset and Santa Monica Boulevards converge. One block apart on Sunset, for example, you'll find one of L.A.'s best coffee bars (Intelligentsia) and gelaterias (Pazzo Gelato). Both are open late, so after browsing shops that sell everything a hipster needs, from surf-shop fashions to sassy sunglasses, you can get your caffeine or sugar fix at those spots before hitting The Black Cat for a craft cocktail.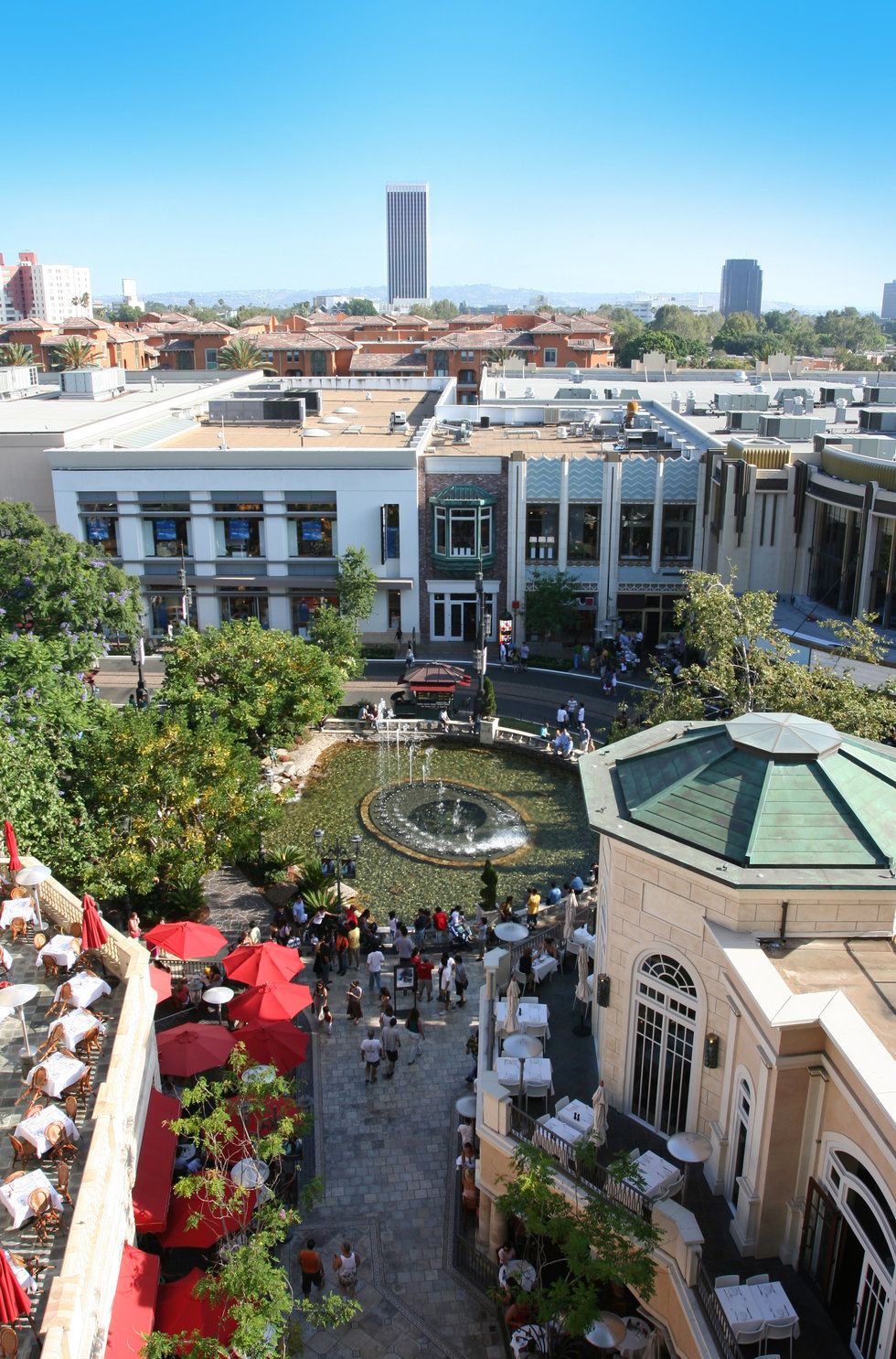 Shopping and eating at the Grove farmers market
Fairfax
Only New York City and Jerusalem have larger Jewish populations than L.A., and "Fairfax Village" — named for the commercial strip along Fairfax Avenue — is the city's historic center of Jewish culture. This includes the Los Angeles Museum of the Holocaust and Jewish/Israeli eateries that include a deli, bakery, bagelry, café and market. Also noteworthy in the district are L.A.'s original Farmers Market (open daily) and The Grove, an outdoor retail and entertainment complex. Young visitors favor the district's numerous streetwear and skate shops.
Highland Park
Highland Park, a neighborhood between downtown L.A. and Pasadena, is filled with stately Victorians and Craftsman homes, gastropubs and galleries, nightspots and artisan-pizza spots and a new marionette theater along York Boulevard and Figueroa Street. Then there's Highland Park Bowl, L.A.'s oldest bowling alley. The place, which opened in 1927, was recently transformed into one of America's classiest spots to roll a strike, with leather couches, chandeliers, wood-fired pizza and live music on most nights.
Westwood
Young travelers — and those who want to feel young again — must visit L.A.'s leading "college town," even though Westwood is only a district (not a town) and UCLA isn't even within its boundaries. It's right next to campus, though, and on weekend nights it seems that the entire student population of 45,000 fills the restaurants, pubs and shops on Westwood Boulevard. Even if you don't catch a play at Westwood's landmark Geffen Playhouse, you can choose among more than 1,000 annual events at UCLA.
If you go
L.A. boasts mild weather year-round — heat waves and rainstorms are rare — so anytime is a good time to visit. United Airlines offers numerous flights to Los Angeles from cities throughout the U.S. and worldwide. MileagePlus® Rewards can help pay for your hotel room. Go to united.com or use the United app to plan your L.A. getaway.