Long after sunset, United Captain Andy King and his fellow Watts of Love volunteers made their way along a jungle path on Ilin Island, off the coast of Mindoro, Philippines. Even with their headlamps, the darkness was stifling. King, a Chicago guy, had never experienced anything like it as he moved precariously with the others through the void. Suddenly, approaching a clearing at the edge of a village, King saw an exhilarating sight: small circles of light dancing in the shadows up ahead.
Using solar-powered lanterns that a Watts of Love group had left the previous year, men fished in the night. Women talked and laughed together as they cooked and mended nets. Inside thatched huts, children studied school textbooks.
The village had no electricity. When night fell, its inhabitants had once either lived in total darkness or else lit candles or kerosene lamps, but both could be expensive, and the latter posed a serious fire hazard and emitted toxic fumes as it burned. Now, with safe, economical, self-sustaining light, the tiny community had been empowered. In some ways, those glowing bulbs were stepping stones out of a life fraught with danger and poverty.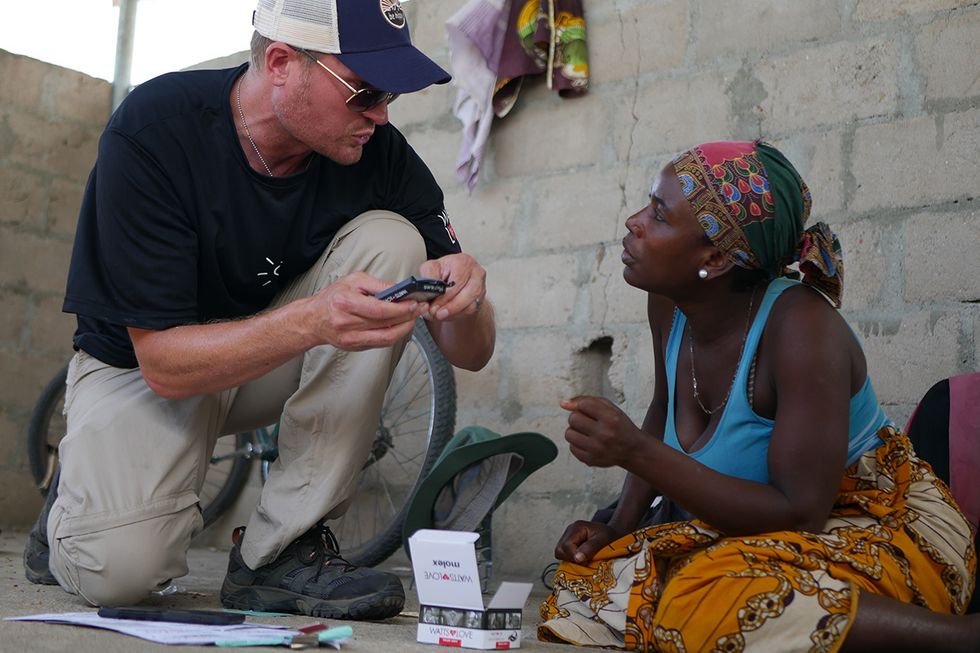 Captain King in Mozambique
"It's life changing," King says, speaking to the power of light. "Over the next few days as we distributed the lights, I saw firsthand what a difference it makes."
---
After that initial trip, King was hooked. For the past five years, he has volunteered regularly with Watts of Love, a nonprofit organization founded by his friends, brother and sister Nancy Economou and Kevin Kuster, with the goal of bringing light to the more than 1 billion people worldwide who live without electricity.
As a pilot, King is often asked about the places he's been. When he mentions the Philippines, Mozambique and Nepal – countries he's visited with Watts of Love – listeners tend to perk up. They want to know more about his volunteer efforts and, most importantly, how they can help.
Through a new program called Miles on a Mission it's easy. Customers can donate their United MileagePlus miles to a number of philanthropic organizations, like Watts of Love, that use them to fly people and supplies around the world.
As long as it meets United's eligibility requirements, any organization can apply to post a campaign on the Miles on a Mission site, which is www.united.com/donate. Each campaign lasts 28 days and has a set mileage goal. All you have to do is find the one (or ones) that speak to you, then contribute as few as 1,000 miles to each.
As a bonus, United is matching the first 50,000 miles earned for the initial 40 Miles on a Mission campaigns, to the tune of 2 million total miles. It's part of the airline's Every Action Counts pledge, by which it promises to unite the world and serve its communities by putting its people and planes to work for the greater good.
"I love working for a company that cares about these kinds of causes," says King. "Giving out lights is one of the most impactful, rewarding things I've ever done, and I want to share that with others. I like that I can talk with my passengers and co-workers about it, and that there's a way for them to be a part of what Watts of Love is doing through Miles on a Mission."
Visit www.united.com/donate to see the current campaigns and read more about Miles on a Mission, including eligibility requirements. You can also visit www.wattsoflove.org to see some of the ways in which its volunteers are putting United MileagePlus miles to good use.